We're not talking about tofurkey here. You needn't skimp on flavor to score a healthier holiday meal. Test these "alternative" recipes that may make you, and everyone at the table, a permanent convert to a healthier vegetarian lifestyle.
Roasted Stuffed Squash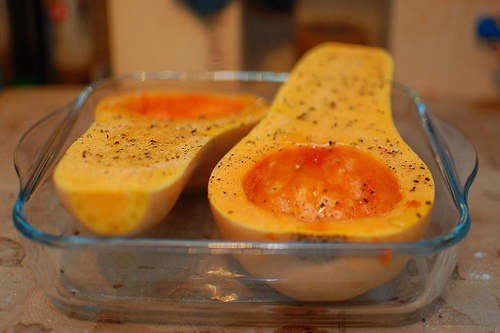 Roast these beauties to delicious perfection this Thanksgiving.
The flavors of fall dance in your mouth with each bite of this roasted stuffed squash. Meat-free and totally delicious, this roasted squash recipe is the perfect Thanksgiving side dish and may just steal the holiday meal show.
Here's what you'll need:
For the Squash:
1 tablespoon garlic, minced
1 tablespoon fresh thyme leaves
1/2 teaspoon black pepper
For the rice:
4 ounces mushrooms, diced
1/2 cup Parmesan cheese, grated
Preheat oven to 375 degrees. Halve the squash and scoop out the seeds. Place the squash on a baking sheet, cut side up. Rub each squash half with the olive oil and garlic. Sprinkle the thyme, salt and pepper over the squash. Roast for 40 minutes or until tender. Remove from oven and allow to cool completely. Leave oven on.
Heat olive oil in a large sauté pan on medium heat. Add the shallots and sauté until tender. Add the mushrooms and continue sautéing until tender. Remove from heat and add the cooked rice.
Scoop the squash flesh from the peel, reserving just enough in the peel for it to remain sturdy. Mash the flesh in a mixing bowl and add the parmesan cheese. Add the rice mixture and stir to combine. Salt and pepper to taste.
Divide the filling between the squash peels. Bake the stuffed squash for 15 minutes or until cheese is melted and lightly browned. Serve immediately.
Pumpkin Bisque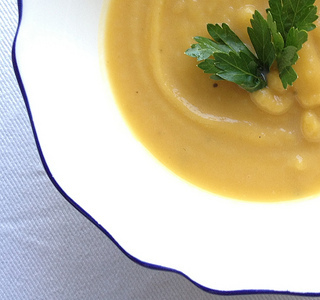 Make your inner vegetarian squeal with delight with this pumpkin bisque.
Savor the warm and comforting flavors of this pumpkin bisque. From fresh pumpkin puree to a hint of spice, this soup is sure to warm the day's guests to the idea of a vegetarian holiday. Accompany the bisque with homemade artisan bread for a knockout meal.
Here's what you'll need:
2 cups fresh pureed pumpkin
1 small yellow onion, chopped
1 teaspoon garlic, minced
1 teaspoon red curry paste
1/2 teaspoon ground ginger
1 1/2 cups whole coconut milk
Heat olive oil in a large sauté pan. Add the onion and garlic and sauté until tender. Add the red curry paste and pureed pumpkin and sauté for an additional 3 minutes. Add the vegetable stock and stir.
Transfer the mixture to a blender or food processor and puree until smooth.
Return the soup to the sauté pan and add the coconut milk. Salt and pepper to taste. Heat for 5 minutes or until bubbling and hot. Divide between soup bowls and garnish with pumpkin seeds and croutons, if desired.
Mashed Sweet Potatoes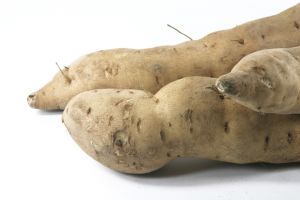 Peel and boil for a vegan-friendly side dish.
Take a turn from traditional mashed potatoes with these mashed sweet potatoes. Silky smooth and vegan-friendly, these mashed sweet potatoes are sure to have your Thanksgiving crowd begging for more.
Here's what you'll need:
14 ounce can of whole coconut milk
Peel the sweet potatoes and cut into 1-inch cubes. Bring a pot of water to boil and add the cubed sweet potatoes. Boil for 15 minutes or until tender.
Drain the water and transfer the sweet potatoes to a large mixing bowl. Mash the sweet potatoes and add the remaining ingredients. Stir until combined. Salt and pepper to taste.
Don't feel cast out from the Thanksgiving crowd. This year, dig into a vegetarian-friendly holiday feast and show others at the table just how delicious a vegetarian Thanksgiving can be. Looking to adopt a better eating lifestyle? Check out these 9 high calorie foods that you should avoid.
Photo credits: Le living and co., bea&txm